Below is lineup of upcoming Camino-related events and hikes for September 2018 in the San Francisco Bay Area.  But first, I would like to announce my new Wellness Tribe Newsletter, launched in September.  See first issue here. There are so many amazing events and resources to share, so this newsletter will feature wellness-focused topics, including:
workshops and retreats led by my favorite yoga teachers
free online courses, summits, and meditations
mindful practices for stress relief
yoga stretches for pilgrims
interesting tidbits I learn about in my continuing education
books that I recommend
fun events in the Bay Area
my upcoming classes (also listed at thecaminoprovides.com/yoga/)
The newsletter frequency will be no more than once per month. I take your privacy seriously, and never sell or share email addresses. You can opt out at any time by following the link at the bottom of each newsletter email. Subscribe now. 
Okay, here's the lineup for September!
Lake Merritt Walk
Saturday, September 1, 10:30 AM to 12 PM
Join us on this walk that takes place on the first Saturday of the month, rain or shine. We meet at the Pergola (aka "The Columns") on the east side of Oakland's Lake Merritt at 10:30 and start walking by 10:45. It's a level, 3.3-mile walk around the lake that takes about an hour. Whether you're a newbie or Camino veteran, everyone is welcome. Bring your questions, answers and pilgrim spirit! Below is a video of our last walk on August 4th.
Directions: Take BART to the Lake Merritt or 19th Street Oakland station and navigate your way to the Pergola.
Service Modification for Labor Day Weekend 9/1 – 9/3: For those coming from SF on BART, train service will stop at West Oakland with free AC Transit bus bridge to 19th Street. See the BART alert for details.
If you drive, make sure to give yourself enough time to find parking, as there are many activities on Saturday mornings in the Lake Merritt area. FYI: There is a small fee lot at the corner of Euclid and Grand Avenues that is close to the Pergola.
RSVP not required, but if you're on the NorCal Facebook group, join event.
---
Free Oakland Hiking Tour on Labor Day
Monday, September 3, 9 AM – 12:30 PM
Enjoy a hike from Oakland's Dimond District up to Joaquin Miller Park. This beautiful 7.5 mile hike will go through Oakland's Dimond Canyon and Joaquin Miller Park, and will finish with a spectacular view of San Francisco Bay.
When: Monday, September 3 at 9:00 AM (the group will leave promptly at 9:10)
Where: Meet at La Farine Bakery: 3411 Fruitvale Ave, Oakland, CA 94602
Details: Steady, 7.5-mile hike in Oakland's largest wildland trail system, with some steep uphills and downhills, and narrow trails through the canyons. Bring water, sturdy shoes, and bus fare ($2.25).
Watch OaklandTrails.org 30-second PSA.
I went on the hike twice and highly recommend it for Camino training.  I observed that most people on these hikes don't bring trekking poles. Pilgrims, there are some steep parts at the end, so if you have poles, bring them.
---
Journey to Inner Peace 11
September 8, 3:00 – 6:00 PM
Shoreline Lake, Mountain View

Journey to Inner Peace is an outdoor program to help you reduce stress and add more happiness to your life. Participants will be hiking on a serene and peaceful trail (very short distance, just to feel the fresh air), learning simple yoga poses to relax their bodies, and learn some tips to maintain positivity in life. You will get to practice an ancient meditation technique, guided by a Buddhist monk.
I have been to these events in San Francisco, and taught yoga at the last two. I an considering leading the yoga at this event as well.  Bring your own yoga mat, and your favorite cushion for meditation, or a foldable chair if you cannot sit comfortably on the ground.
Dress code: Loose, polite and comfortable clothing ready to hike on a trail, ready to sit on the yoga mat. The weather may be cold. Check the weather and bring enough jackets or blankets.
Free Admission: Sign up on Eventbrite
More info: text Rose via (669) 258 8106.
Parking: some small fee applied, pay at the machine at the parking lot.
Tentative Program:
2:45 PM Registration
3:15 PM The Journey begins
3:35PM – 6 PM Walking along the journey
---
Health & Hiking Poles Weekend Retreat in Point Reyes
September 14 – 16
SOLD OUT
This event is sold out, but there will be another retreat with Jayah and me in Point Reyes April 12 – 14, 2019. Look for details in early 2019 events posts.
---
Mt. Tam Hike
Sunday, September 16, 10:00 AM
Enjoy the panoramic views of the bay and ocean as we hike along the trails of Mt. Tamalpais. The distance is 9 miles with an elevation gain of 1,200 feet. Expect the pace to be at a moderate speed. Hiking poles may be useful on the uphill stretches. Bring lunch and water; no water available at meeting location.
Meet us a bit before 10:00 AM for sign-in and briefing at the Rock Spring Trailhead on Mt. Tamalpais. Led by chapter steering committee member, Dick Duker. Cancelled by rain. If lost getting to the hike, call Dick's cell phone at (510) 705-2447. No RSVP required.
Getting There
By Car: From San Francisco and the south, take Hwy 101 North; and from the north and east, take Hwy 101 South to Mill Valley (from the East Bay, cross the Richmond-San Rafael Bridge). Take the Hwy 1 exit and continue on Hwy 1. Turn
Right onto Panoramic Highway, drive around the mountain and turn Right onto Pantoll Road. Drive 1.2 miles to the Rock Spring Trailhead parking lot (free parking, restrooms available). For more/other directions, use Google Maps.
Carpooling: If you want a ride or can give one, post a message to this event listed on our Facebook Group page. Suggested meetings points are the Park & Ride lot at the Hwy1/Hwy 101 intersection in Mill Valley at 9:15 AM and the Orinda BART station parking lot at 8:45 AM.
What to Bring
Water and lunch, sturdy walking shoes, hiking poles (optional), plastic bag to sit on. Also, some cash for a possible post-hike stop or to help out your carpool driver.
Tour leader: Dick Duker
---
National Public Lands Day
Saturday, September 22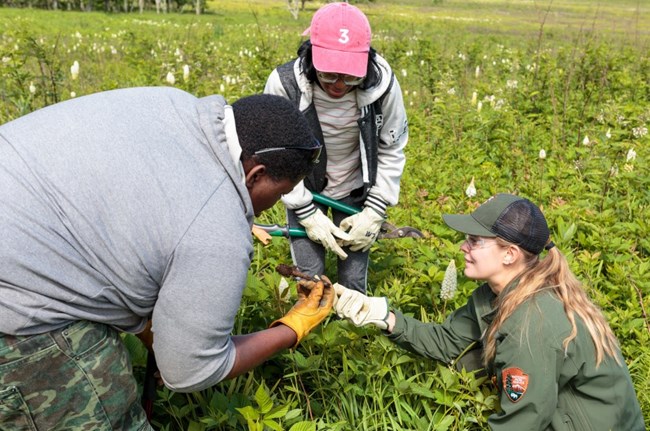 Established in 1994 and held annually on the fourth Saturday in September, National Public Lands Day is the nation's largest single-day volunteer effort. It celebrates the connection between people and green space in their community, inspires environmental stewardship, and encourages use of open space for education, recreation, and general health. This year's event, on September 22, 2018, will focus on restoration and resilience of our public lands.
This year is the 25th anniversary of National Public Lands Day as well as the 50th anniversary of the National Trails System and National Wild & Scenic Rivers System. It's a big year for our public lands!
There are many ways to participate in National Public Lands Day.
Learn more at: https://www.nps.gov/subjects/npscelebrates/public-lands-day.htm
---
Multicultural Wellness Walk
Saturday, September 29 at 9 AM – 12 PM
Redwood Regional Park
Please join Samuel Merritt University's Ethnic Health Institute and East Bay Regional Park District for a Community Multicultural Wellness walk along a hidden redwood forest off Redwood Road just a few miles over the ridge from downtown Oakland.
Our intention is for the walk to serve as motivation to continue the promotion of cardiovascular health, physical activity and overall wellness throughout the year. It is our hope that the walk will encourage people of all ages, and representative of our diverse communities, to exercise and connect with nature– generating physical and mental health benefits for individuals, families and entire communities.
Park entry fee WAIVED for participants. Proceed through
entry kiosk, continue straight to parking area at the end of the
road. Our walk will begin from the OWL picnic area.
We hope you are able to join us in our effort to walk for health!
Healthy snacks, community resources, and a 90 minute guided walk will be provided.
What to Bring: Comfortable walking shoes, sunscreen, hat, and plenty of water.
Register and Directions: https://www.eventbrite.com/e/multicultural-wellness-walk-tickets-49315194073
---
SAVE THE DATES:
Silicon Valley Chapter's 3rd Annual Discover Downtown Walk and Potluck
Saturday, October 6 at 10 AM – 3 PM
134 S 12th St, San Jose
You will be amazed at just how much there is to see and do in downtown San Jose and 30 year residents Lisa and Gordon know just how to show you. Please join us for a "Discover Downtown" Walk of about 5 miles meandering through the University campus, SOFA district, San Pedro Square and other historic and up- and-coming parts of downtown San Jose. Meet at Lisa and Gordon's house at 10:00 a.m. for coffee. The walk starts promptly at 10:30 a.m. and will last about 2 1/2 hours. Afterwards, potluck in Lisa and Gordon's backyard, very shady and nice for a gathering. Folks can leave their potluck stuff in the house before the walk. During the potluck we will encourage people to do a short share. "What is your one great Camino packing trick?"
Event for American Pilgrims on the Camino – Silicon Valley Chapter
Hosted by Judy Barnes
---
Camino Norte and Primitivo events at REI with Ralph and Susan Alcorn
While the most popular route of the Camino de Santiago is the Frances, hikers are increasingly looking for a less crowded or a new route. The Caminos Norte and Primitivo are great choices. Susan and Ralph Alcorn, who hiked both in 2015-16, strongly recommend the entire 500 miles of Norte, and/or the 200 of the Primitivo. In their digital slide show, the Alcorns will give an overview of the Caminos Norte and Primitivo–the routes, elevations, accommodations. Who is hiking? How difficult is it? How to train? How to pack? What resources are available–apps or maps? Throughout, you'll enjoy images of the journey and get inspired to plan that trip of your own that you have been dreaming of.
4 sessions to choose from:
Wed. Oct 10. Concord REI. 7:00pm – 8:30pm  .View more info
Tue. Oct 16. Santa Rosa REI. 7:00pm – 8:30pm View more info
Wed. Oct 24. Berkeley REI. 7:00pm – 8:30pm View more info
Tue. Oct 30. Saratoga REI. 7:00pm – 8:30pm View more info
Susan is the author of the newly published, Healing Miles: Gifts of the Caminos Norte and Primitivo.
---
Sibley Hike to Tilden Steam Trains with Susan and Ralph Alcorn
Saturday, October 13, 10:00 AM to 2:30 PM
Join Bay Area long-distance trekkers and Camino veterans Susan and Ralph Alcorn on a 7-mile hike from Sibley to Tilden Steam Trains.  10:00-2:30. Moderate with some steep sections so a reasonable level of fitness is required. The route may be modified a bit, but basically an out-and-back hike through Sibley, EBMUD land, and into Tilden. 1,000 ft. elevation gain.  Those who want a longer hike (approx. 2 miles) can take an alternate trail on the return trip to see the Sibley labyrinths.
Please wear suitable footwear, bring lunch and plenty of water. Poles recommended. If you would like to ride the Redwood Valley Railway steam train bring a few dollars cash and you can ride during our lunch stop. This scaled-down steam train is fun for all ages. It goes along a scenic ridge at times overlooking the Bay Area, through the redwoods and a tunnel.
Meet at Robert Sibley Volcanic Regional Preserve
6800 Skyline Blvd · Oakland, CA
Directions. Take Highway 13 from Highway 24 if you are coming from the Walnut Creek-San Francisco area, or Highway 580 to Highway 13 if coming from Hayward. Take the Park Bl exit, and cross the freeway to mountain Bl. turn left and proceed about a half mile and turn right onto Snake Rd at the traffic light and continue straight ahead onto Shepherd Canyon Rd. to Skyline Bl, turn left and continue for about 1.6 miles.
Although carpooling is encouraged, there is parking available in a lot, or on the street. Free entry.
There are restrooms and water available at our starting/end point in Sibley, and at our lunch spot in Tilden.
---
Welcome Home Potluck
Oakland, California
Saturday, November 10, 10:00 AM – 3:00 PM
St. Augustine Catholic Church
400 Alcatraz Ave, Oakland, CA 94609
Help the Northern California chapter celebrate this year's returning pilgrims at our annual Welcome Home Potluck. We'll be gathering at St. Augustine Catholic Church in Oakland, near the border with Berkeley.
---
I'm happy to share an article by NorCal chapter co-coordinator Guy Joaquin. He has led a few BART-to-BART hikes for our chapter over the years. Now you can retrace his steps as self-guided urban hikes, which he occasionally contributes to the BARTable email newsletter.
BARTable Walk: Rockridge to 19th St./Oakland
Take an urban hike through Oakland
by Guy Joaquin
Mix together two neighborhood tours, add in a stop at a building full of architectural surprises, top off with a stroll through a food and art corridor, and you've got a recipe for urban adventure on this BARTable walk in Oakland. All you need is a Clipper card (or BART ticket) and a sense of adventure.

Starting BART Station: Rockridge
Walk: 2 hours Route Map
---
There are always opportunities to train for or learn about the Camino. If you know of any Camino related events for the SF Bay Area that should be included in the monthly roundup, please use the comment form below, or email me.
For those who live elsewhere, there are Camino hotspots all over the USA and the American Pilgrims on the Camino (APOC) website has a listing of local chapters where you can find Camino events. There are also many active Facebook groups to learn about events in your region. Check your local REI store for workshops and presentations about the Camino. Check http://www.rei.com/ for events in your area.
Visit the Northern California Chapter page on the APOC website.
Join the Peregrinos Northern California Facebook group (closed group for Northern California residents only)
Buen Camino!
---
The Camino Provides patch
The rainbow shell design was inspired by the concept of chakras. Learn more.
Purchase for $4 each at etsy.com/shop/caminoprovides.
My mission is to celebrate the Camino de Santiago and the pilgrim's journey, from the calling to Compostela and beyond. I do this by sharing informative tips on training, gear, and routes; by promoting Camino related events in the Bay Area; by interviewing pilgrims and sharing inspiring stories; and by curating content relevant to the Camino.  Purchases help to defray the costs of hosting and managing this blog so that I can keep sharing the Camino love!
---
I am sharing the recently updated vision statement of American Pilgrims on the Camino.
Vision
We inspire all who seek the spirit of the Camino to connect with the global community of pilgrims.
Mission
Foster the enduring tradition of the Camino by supporting its infrastructure, gathering pilgrims together, and providing information and encouragement to past and future pilgrims.
Organizational Values
Community, Gratitude, Service, Simplicity
Spirit of the Camino
Live in the moment.
Welcome each day – its pleasures and its challenge.
Make others feel welcome.
Share.
Feel the spirit of those who have gone before you.
Imagine those who will follow you.
Appreciate those who walk with you today.
The Spirit of the Camino is printed on our APOC Credentials. I love it.